See on Scoop.it – AEOB REA – Recursos Educacionais Abertos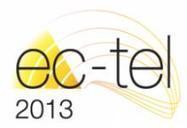 The European Open Education Portal. Find open educational resources and exchanges best practices.
Alberto Cardoso's insight:
O Portal elearningeuropa.info pretende aproximar os professors dos alunos oferecendo espaços de aprendizagem abertos e inovadores, encorajando o uso dos Recursos Educacionais Abertos (REA).
The elearningeuropa.info portal aims to bring teachers closer to learners by providing open innovative learning spaces and encouraging the use of Open Educational Resources. The website will make it easier to search for open courses and relevant resources in different languages, interact with peers in thematic groups, and access high quality research materials.
See on elearningeuropa.info